Do you want to make your business cards more interactive and engaging? If so, you should consider adding NFC (Near Field Communication) tags. NFC tags are becoming increasingly popular as they offer various potential uses and applications. With NFC tags, you can program your business cards to do all sorts of things, from displaying your contact information to opening a specific website or social media page.
If you're not familiar with NFC technology, don't worry. This ultimate guide will explain everything you need to know about how to program NFC business cards. We'll also provide some helpful tips on using NFC tags to enhance your business cards and make them truly unique.
What is NFC?
NFC (Near Field Communication) is a short-range wireless technology that allows two devices to exchange data. NFC is similar to RFID (Radio Frequency Identification) but has a shorter range and requires less power. NFC tags are often used in mobile payments, public transportation, and contactless keycards.
NFC tags are embedded with special chips that store data. When an NFC-enabled device, such as a smartphone, comes into proximity to an NFC tag, the tag will wirelessly transfer its data to the device. This process is known as "tag reading." Tag reading can be used for various purposes, such as retrieving information from an NFC tag or writing data to an NFC tag.
How Do You Program an NFC Business Card?
Programming an NFC business card is relatively simple. You need an NFC tag on an NFC-enabled device, such as a smartphone ad a programming app. Several different programming apps are available, but we recommend using the NFC Tools app. This free app is available for Android and iOS devices and is easy to download.
Once you've downloaded the NFC Tools app, open it and select the "Write" option.
To program the NFC tag, enter the desired information into the "Add Record" field.
You can enter any data you want, but we recommend including your contact information (name, phone number, email address, etc.) or a URL that leads to your virtual business card.
Once you've entered the desired data, tap the "Write" button.
Then, hold your NFC-enabled device close to the NFC tag on your business card. The app will automatically detect the tag.
iPhone users will need to hold the top-center of their phone within 1 inch of the NFC tag. Android users need to place the backside-middle of their phone onto the tag. Once you've done this, your smartphone should make a sound or vibrate to indicate that the NFC tag has been encoded successfully. If you get a red exclamation point, try again.
Now, whenever someone taps their NFC-enabled device to your business card, they can view the programmed information.
If you want to test whether your NFC business card is working, hold your smartphone near it. Your phone should automatically receive the information you encoded via a drop-down notification.
You don't need an app to read the NFC tag. Any compatible phone can do so within a range of 3 inches, as long as the screen is turned on. Smartphones usually take 1-2 seconds to scan the tag. Some Android phones may require you to turn on the "NFC" setting in the phone's menu before they can perform the scan.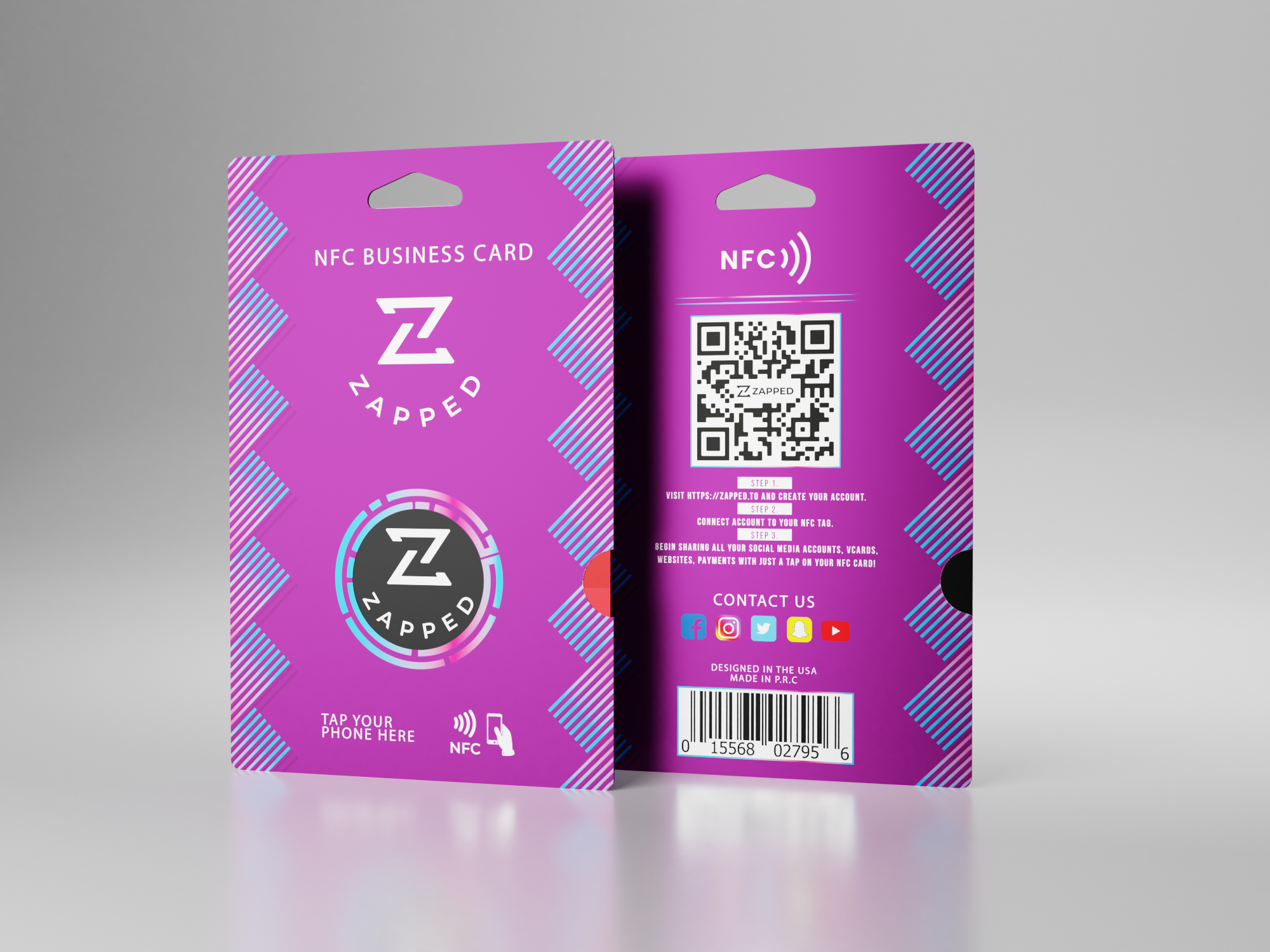 Use Zapped NFC Business Cards
With so many people now relying on their smartphones as their primary means of communication, it makes perfect sense to use that same device to exchange business cards. And with Zapped NFC Business Cards, it's never been easier.
Unlike traditional business cards, which can be easily lost or forgotten, Zapped NFC Business Cards use Near Field Communication (NFC) technology to store your contact information electronically on a small chip embedded in the card.
Your potential new contacts need to tap their NFC-enabled smartphone against your card, and your vCard will be instantly transferred.
But how you'll get the digital business card?
Simply sign-up with Zapped and create your own virtual business card in minutes.
With our easy-to-use interface, you can add your own images, logo, contact information, and more.
You can even include links to your social media profiles so that potential customers can connect with you on the go. And best of all, creating cards is completely free.
So, No more fumbling around for a pen and paper. What's more, because your information is stored electronically, you can easily update it as needed through the Zapped vCard dashboard. So you can rest assured that your new contacts will always have your most up-to-date information through your own NFC business card.
If you're looking for a more efficient and modern way to exchange business cards, look no further than Zapped NFC Business Cards. Get started today and see the difference!